Stockperson Standard Level 2 - 2227
Level
Level 2

Duration
2 years

Start Date
September 2022

Venue
Easton College

Course Code
E0261
Start Date
September 2022, Apprenticeship
Summary
With over 150,000 businesses, the Agriculture industry offers exciting and varied careers in the UK and abroad. The industry provides unique opportunities for young people to work in a technically advanced and innovative environment, producing one of the country's most important products – food, which accounts for 14% of the British GDP. Businesses within the industry range from family farms through to large integrated organisations working across the food supply chain. A Stockperson will raise the animals with optimal welfare and consideration for their needs throughout the different stages of their life. This practical work involves a combination of technology and manual labour. Being a Stockperson requires compassion, self-motivation and the ability to work in a team and independently.
A Stockperson will be responsible for their own work but will have close supervision. As animal welfare is a priority on the farm, the key to being a good Stockperson is understanding your limits and knowing when to ask for help. Working with live animals presents a range of challenges to overcome and ensures no two days will be the same. This Standard follows a 'core & options' approach, the core covers the generic requirements for looking after animals competently and the sector options provide more specific needs for different livestock. One option will be taken in addition to the core skills to complete this Apprenticeship, which provides a solid foundation for a range of progression opportunities within the industry.
There are four course pathways for this Apprenticeship; Beef, Dairy, Sheep, Pigs. All pathways are taught together in the same class. The pathway will be chosen depending on the nature of the organisation you are working in.
This apprenticeship is delivered from our Easton Campus.
Entry Requirements
GCSE Grade 2/E in Maths and English (Language or Literature) or Level 1 Functional Skills in Maths and English
In order to enrol onto an Apprenticeship, you need to be employed in a relevant job role and undertake a range of tasks which would enable you to complete the Apprenticeship qualification.
Learning Outcomes
Upon successful completion of the course, learners will be awarded with a Level 2 Stockperson Apprenticeship Standard, which includes the following;
If not previously achieved, Level 1-2 in English & Maths
First Aid
PA1 (Safe Use of Pesticides)
PA2 (Ground Crop Sprayer Hydraulic Nozzle) or PA6 (Knapsack)
Assessment
The Apprentice will be ready for End Point Assessment which includes:
Knowledge Test: assessed by an End Point Assessment Organisation (EPAO), this test will consist of multiple-choice questions on a computer-based platform. Provisions can be made for paper-based assessments to be made available if reasonable adjustments require this.
Skills Test: assessed over 1 day by an Independent End Point Assessor (IEPA), this assessment will holistically assess skills, knowledge and behaviours acquired throughout the Apprenticeship.
Professional Discussion: assessed by an IEPA following the skills test, to confirm the learners understanding and to obtain further evidence of knowledge. It will extend and amplify the ability demonstrated in the Skills Test.
Progression
The impact of this course should support a learner's progression which may include:
Continuation or development within this sector.
Career Progression
The impact of this course should support career progression which may include:
Progression to Livestock Manager.
Fees
Apprenticeship course fees are subject to the age of the apprentice, the payroll of the employer and the number of employees. Course fees are paid by the employer and not the apprentice. Employers who take on an apprentice aged between 16-18 years old, or aged 19-24 with an Educational Health Care Plan, will receive an Incentive Payment to help cover their costs.

To discuss Apprenticeship course fees, more information on recruiting an apprentice or if you would like to train your existing staff please contact our Apprenticeships Team on 01603 773365 or email Apprenticeships@ccn.ac.uk.
Latest News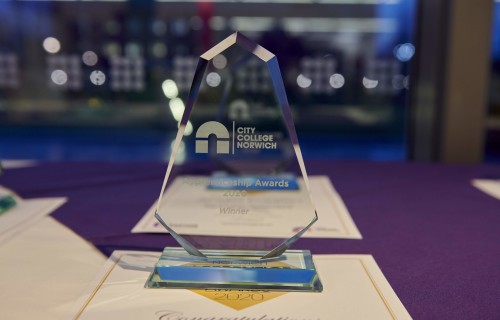 City College Norwich has ended the year with a celebration of the achievements of students who completed Further Education courses with Easton College, Norwich College, and Paston College.
Read more
31st December 2021