FdSc Animal Science & Welfare
Level
Level 5

Duration
2 years

Start Date
September 2020

Venue
Easton College

Course Code
E3061-2
Summary
This two-year programme establishes the fundamentals of animal science training, development and management through academic study combined with real life work experience. The course has been designed to develop the skills, knowledge and practical experience of animal behaviour, physiology and care. Students will also develop their expertise in the importance of animals in society, alongside welfare management. Specific modules will examine the management of wildlife as well as the nutritional requirements of various dietary types.
Modules delivered will cover areas such as;
Fundaments of Animal Nutrition
Core Animal Husbandry Skills
Diversity and Evolution
Human and Animal Interactions (optional module)
Zoo Animal Management (optional module)
The course is delivered through a variety of activities and events such as practical work, group activities, lectures, workshops, problem solving activities, tutorials, e-learning seminars, external visits and guest speakers. Delivery takes place at college over 2-3 days per week.
Experience of working in the Animal Care or Veterinary Industries is desirable, but, not essential. Each year you will study 120 Credits. These Credits are split into 20 Credits per module for both years of the course. You will study 14 hours a week and will undertake 100 hours of work experience per academic year. You are also be expected to complete independent study and research in the rest of the week.
All of Easton's Degree programmes are validated by UEA, meaning that the quality of the awards you get is assured by a world-renowned Higher Education organisation.
UCAS Code: D300
Fees: £7,500 per year. Fees will not change for the duration of your enrolment on the degree. Students will be expected to buy some equipment for work with animals for example Protective Personal Equipment such as tabards for safe animal handling. Students will also be expected to pay the costs of trips/visits (typically £50-£100 per year).
Why Our College?
High Quality Degrees
All our degrees are awarded by UEA, a leading university.
Lower Tuition Fees
Our tuition fees are below universities with most courses costing £8,500 per year.
Outstanding Support
Our smaller class sizes means that we can provide you with outstanding support to help you succeed.
Entry Requirements
Our typical offer is 64 UCAS tariff points form A levels or equivalent
A minimum of GCSE maths, English and science (preferred) grade 4/c or above or National Literacy and Numeracy tests at Level 2 or 3
UCAS points from Scottish Highers or Advanced levels are accepted
UCAS points from Irish Leaving Certificate or Welsh Baccalaureate are accepted
UCAS tariff points from BTEC or City and Guilds diplomas are accepted
Open University credits in lieu of A levels
Access to HE Diplomas at Pass level with suitable science or land-based credits
Credit transfer and accreditation of prior learning or experience: If you have achieved a qualification of credits towards a Higher Education programme at another Higher Education Institution you may be able to enter Level 5 or accredit matching modules. Please see our further information on our Credit Transfer/APL/APEL area found under our 'Prospective Student Information' section
Applications from students whose first language is not English are welcome. For International students we require evidence of proficiency in English (including writing, speaking, listening and reading); the required minimum is IELTS (SELT) 6.0 overall (minimum 5.5 in all components). Please contact the Admissions Team for advice and guidance.
Assessment
The course has been designed to provide students with an array of opportunities to display understanding and application of the subject informally (via formative assessments), prior to the formal (summative) assessments that will count towards your final grade. Students will receive valuable feedback from tutors or peers for their formative assessments, but grades will not be provided for this work.
Methods of summative assessments include (but are not limited to) examinations, essays or literature reviews, presentations, posters, portfolios, observed practical work and project reports. The grades from these formal assessments will count towards your final module grade.
Students will receive feedback for their summative assessments via our online system, and we aim to provide this within 21 working days. Feedback will be detailed and tailored, to help students learn and develop their knowledge and performance over the duration of the course.
Progression
Successful candidates may progress onto our BSc (Hons) Animal Science and Welfare (Top-Up) course or our BSc (Hons) Land-based Sciences course (subject to meeting entry criteria/and module combinations).
Students may also choose to enter employment or graduate internships in a range of industry-based careers such as working with local, national or international charities, laboratories, animal nutrition companies, zoological societies, working in roles training animals or consulting on animal behaviour.
Latest News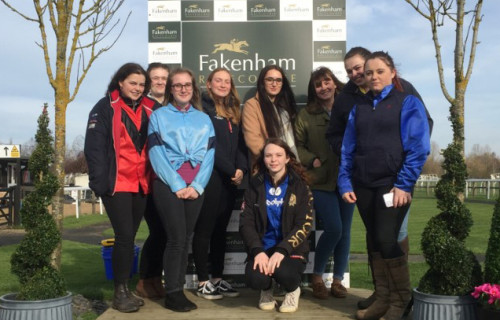 Equine Diploma students learned more about horse racing and career opportunities within the industry, when they visited Fakenham Racecourse.
Read more
24th February 2020