Certificate in Practical Horticulture Skills Level 2
Level
Level 2

Duration
1 year

Start Date
September 2022

Venue
Easton College

Course Code
B0346
Start Date
September 2022, Part Time
Summary
This qualification is aimed at anyone aged 19 or over wishing to develop their practical skills in Horticulture and who would perhaps like to progress to employment within the Horticulture industry. This is a one year course, where learners attend college for a day a week, over 36 weeks. The Level 2 Diploma in Practical Horticulture Skills qualification covers a very wide range of Units relating to Horticulture (49 units in total).
Candidates must successfully complete all parts of the assessment for each unit chosen.
The list of Units studied could include (but is not limited to):
Prune and train wall shrubs and climbing plants
Apply fertiliser to plants
Identify plants by botanical name
Design a show garden
Propagate plants by stem cuttings
Maintain a garden pond
Draw up a two dimensional site survey
Produce a planting plan
Assess soil texture and condition
Entry Requirements
Open to applicants aged 19 and over. There are no specific prior achievements required to take this qualification, and you may or may not have had previous experience in Horticulture. This qualification allows the learner to develop and practise the skills required for employment and progression within the wide and varied Horticulture sector.
Assessment
Assessment is by observation of practical performance and underpinning knowledge questioning by an oral/written task.
Career Progression
Gardener, Garden Centre worker, Plant Nursery assistant, Groundsman
Fees
Please contact the Advice Shop for information on fees and financial support which may be available. We recommend you also check our Finance pages for further information including student travel offers.
Latest News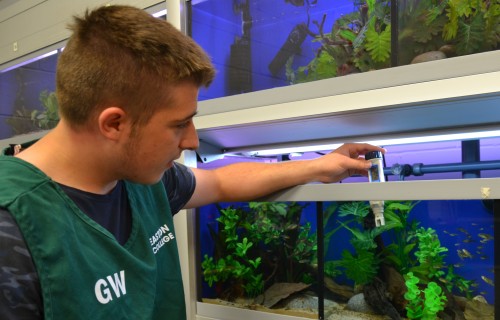 Hundreds of rare fish on the Red List of Threatened Species have moved into their new home at Easton College.
Read more
23rd September 2021