Emergency First Aid at Work
Level
Entry Level

Duration


Start Date


Venue


Course Code
E80150-04
Summary
Our emergency first aid course will provide you with the skills to support qualified first aiders in the workplace.
The certificate is issued by Easton College and is recognised by Qualsafe an approved provider of First Aid training and is valid for 3 years.
Course Content Includes:
the Role of the first aider including reference to the use of available equipment and the need for recording incidents and actions
the importance of basic hygiene in first aid procedures
assessing the situation and circumstances in order to act safely, promptly and effectively in an emergency
administering first aid to a casualty who is unconscious and/or in a seizure
administering cardiopulmonary resuscitation
administering first aid to a casualty who is wounded, bleeding, choking and/ or in shock and provide appropriate first aid for minor injuries
There is an ongoing assessment of this course. All candidates will be awarded a certificate that is valid for 3 years.
Duration: 1 day
Entry Requirements
No formal entry requirements.
Latest News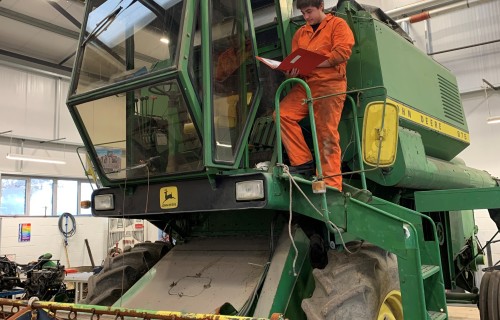 We were delighted to take delivery of a John Deere 975 combine harvester this week, which will increase the on-site learning opportunities available to students.
Read more
4th December 2020