NPTC 0021-08 Aerial Cutting of Trees with a Chainsaw Using Free-fall Techniques
Level
Other

Duration


Start Date


Venue


Course Code
E81930-02
Summary
This course covers the removal of single limb parts of tree canopy to the complete removal of trees without the use of rigging equipment and the removal of tree sections from the crown using free-fall or hand thrown techniques
Course content includes :
PPE
Sending the Saw aloft
General Saw handling
Use of Chainsaw from a rope and harness to remove medium sized lateral branches
Use of Slings
How to free a trapped Saw
Basic Target Pruning
Duration : 2 days
Times : 9am to 4.30pm
Entry Requirements
To carry out this course you must have already completed the Chainsaw Maintenance and Cross Cutting (CS30) and the Felling and Processing Trees up to 380mm (CS31) NPTC qualifications
You will also need to have passed the Accessing a Tree using Rope and Harness and Award in Tree Climbing and Rescue (CS38). You must be fit to undertake this training and aged 18+.
Latest News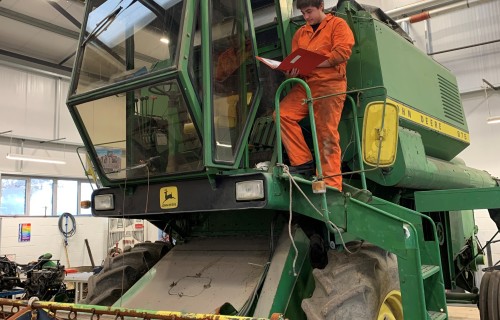 We were delighted to take delivery of a John Deere 975 combine harvester this week, which will increase the on-site learning opportunities available to students.
Read more
4th December 2020