NPTC 021654 Hand Held Applicators Knapsack (PA6) - £295
Level
Entry Level

Duration
1 day

Start Date
Friday 22nd January 2021

Venue
Easton College

Course Code
H0403
Summary
This course is ideal if you are working in forestry, agriculture, horticulture or green keeping and apply pesticides using a hand held applicator.
Course content includes:
Putting PA1 information into practice
Calibration of sprayer
Spraying Speed
Correct use of concentrated and diluted pesticide
Correct selection of nozzles and pressure for spraying conditions and types of pesticides used.
Calculation of area to be sprayed
Wind speeds and other spraying conditions
Practical spraying
Practice for PA6 test
This course is assessed through a Certificate of competence assessment by NPTC assessor after the course. The assessment can be carried out at the college or at the place of work and booked directly with NPTC.
Date: Friday 22nd January 2021
Duration: 1 day
Times: 9am to 4.30pm
Entry Requirements
You need to have completed the PA1 Foundation qualification to attend this course
Book Online for NPTC 021654 Hand Held Applicators Knapsack (PA6)
Latest News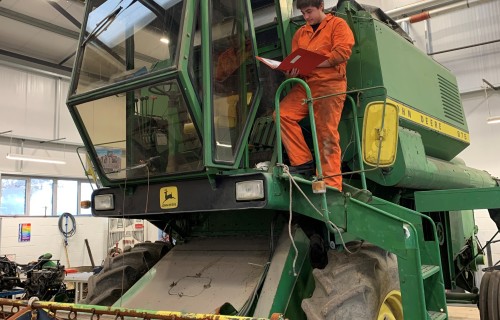 We were delighted to take delivery of a John Deere 975 combine harvester this week, which will increase the on-site learning opportunities available to students.
Read more
4th December 2020