NPTC Felling Small Trees 200mm - 380mm
Level
Other

Duration
3 days

Start Date
July 2021

Venue
Easton College

Course Code
H0419
Summary
This course is for those wishing to work in amenity or arboriculture activities or on forestry commission land.
It will prepare you for roles that will involve felling small trees safely and accurately, removing branches, crosscutting stems, stacking timber and taking down hung up trees with hand tools. You must be fit to undertake this training and ideally be 18 years of age or over. Felling courses are held off campus at a suitable felling site.
Duration - 3 days
Entry Requirements
You must hold a Chainsaw Maintenance and Cross cutting Certificate prior to attending this course. NPTC will not allow assessment on Felling and Processing Trees up to 380mm until Maintenance and Crosscutting has been passed.
Assessment
Competence assessment by NPTC assessor after the course. Can be carried out at the college or workplace and booked directly with NPTC.
Progression
This course is pre-requisite to other chainsaw and arboriculture courses, such as:
Felling Trees over 380mm
Aerial Cutting of Trees Using Free Fall Techniques
Latest News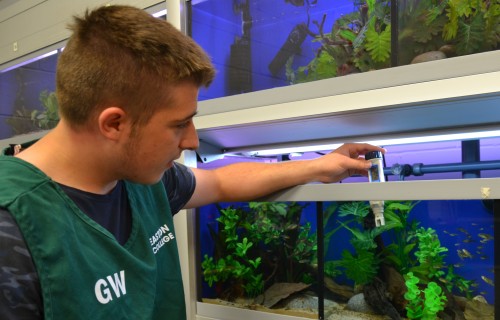 Hundreds of rare fish on the Red List of Threatened Species have moved into their new home at Easton College.
Read more
23rd September 2021