Diploma in Horticulture Level 3
Level
Level 3

Duration
1 year

Start Date
September 2021

Venue
Easton College

Course Code
A0455
Start Date
September 2021, Full Time
Summary
This course will provide you with a wide range of technical skills, knowledge, and understanding. We focus on a broad range of skills that employers value, whilst studying in greater depth, the areas that will allow you to seek specialised and more demanding job roles. This qualification gives you the opportunity to learn about and build on the essentials of working in horticulture such as safe working, using equipment and machinery, plant identification, maintaining turf, plant health, pests and diseases and pruning and maintaining trees and shrubs. You will also learn about plant and soil science and business skills. You will specialise in professional horticulture, and will also learn about estate maintenance, garden design and the construction of landscape features.
Entry Requirements
A minimum of four GCSE's at grade 4/C or above including English, maths and science. Alternatively a Level 2 qualification at Merit/Distinction including GCSE English and maths at 4/C or above.
Progression
The course will prepare you for varied roles and positions within different horticultural industries, including: amenity and production horticulture, landscape design and construction, grounds and turf maintenance or managing public and private gardens. You may wish to move into self- employment or an Advanced Apprenticeship, which allows you to combine work with further training. This qualification can be used to progress into Higher Education.
Career Progression
Green Keeper, Gardener, Landscaper, Nursery Assistant
Fees
If you are a UK or home fee status student and aged 16-18 on the 31st August before the start of your course, tuition fees are free. If you are aged 19 and over please contact the Advice Shop
Latest News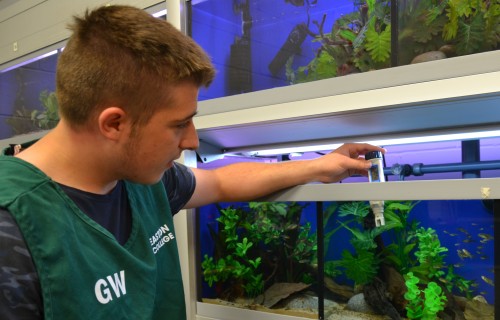 Hundreds of rare fish on the Red List of Threatened Species have moved into their new home at Easton College.
Read more
23rd September 2021