UKCC L2 Certificate in Coaching Weight Lifting (RQF) - £475
Level
Other

Duration


Start Date


Venue


Course Code
E82130-01
Summary
This UKCC Level 2 Certificate in Coaching Weight Lifting is for coaches who have experience of delivering independent coaching sessions to groups of people
The certificate enables coaches to independently create, deliver and evaluate a series of weight lifting coaching sessions to groups of beginner and intermediate level weight lifters. The course is designed to enable learners to identify and correct common technical faults in both the Olympic lifts
What does the Level 2 certificate qualify me to do?
The course will enable you to:
Create, deliver and evaluate a series of linked weight lifting sessions
Supervise other coaches to deliver weight lifting sessions
Deliver independent coaching sessions to groups
The UKCC Level 2 Certificate in Coaching Weight Lifting will be delivered by an accredited British Weight Lifting tutor
The course is delivered and assessed across 2 days of guided learning, with assessments carried out on both days, as well as completion of the e-learning modules prior to and during the course
All learners will receive access to the e-learning platform inclusive of theory tasks and videos for learning
Duration : 2 days
Times : 9am to 4pm
Why Our College?
Elite facilities
Our sports facilities are among the best in the region and include the largest indoor tennis venue in the East of England, 3G pitches and gym and fitness centre.
Large, growing industry
The sport, health and fitness industry is worth £20bn and growing.
Industry expert teachers
You will learn from expert teachers with extensive experience in the industry.
Entry Requirements
To attend this course you need to:
Have completed a UKCC Level 1 Award in Coaching Weightlifting or BWL Level 2 Award in Instructing Weightlifting
Be at least 17 years of age on the first day of the course
Have some experience of the lifts and weight lifting
Be able to communicate effectively in English
Latest News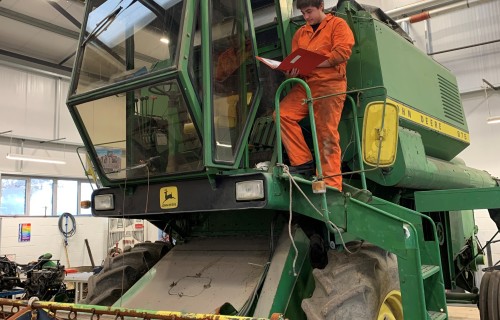 We were delighted to take delivery of a John Deere 975 combine harvester this week, which will increase the on-site learning opportunities available to students.
Read more
4th December 2020