University study: what you need to know
Whether you've just got your A Level results or you're thinking about returning to study, this is your chance to apply for a degree course now and start your student life in September. Here's five reasons to find out more.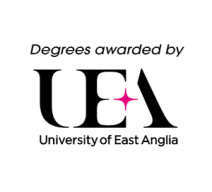 1. Apply now, start next month: we've got spaces on some of our courses available to start this September and you're not too late to apply.
2. Career-boosting courses: we work closely with a wide range of professional sectors from agri-food to equine science, making sure that our courses give you the real-world skills, knowledge and experience you need.
3. We're flexible: our courses fit around your life and career. Many of our students work and study as well as balancing other commitments and part-time study is a possibility on some courses.
4. Our degrees are awarded by the University of East Anglia, one of the UK's top universities and our students get to use the UEA Library and other facilities.
5. Small classes, smaller fees: you'll benefit from smaller classes with great support from your tutors and many of our degrees have lower fees than you'd pay at big universities.
Our Degree and Higher Education courses focus on your career and your future. All of our courses have been developed with employers in mind: from policing to global security, sport and fitness to wildlife and conservation, our degrees will give you broader horizons and open new career possibilities. Check out our list of courses to see where a degree could take you.
Find out more about our HE courses
---
Looking for more? City College Norwich has places left on some great degree courses too including a new Additional Needs and Disabilities (Children and Young People) degree and a broad range of other courses including education, health, engineering, management and more
I've found a course and I want to apply. What should I do next?
Get in touch with us today: call the HE team on 01603 773012 and we'll talk you through how to apply via the UCAS Clearing process. Or you can email us (HE_OFFICE@ccn.ac.uk) and we'll get back to you and answer any questions you've got.
If you haven't applied via UCAS already you'll need to register with them. You can find out about Clearing and check out their comprehensive FAQ section.
I'm interested in university-level study but I need some more help
Our Advice Shop can help answer your questions. Call them on 01603 773 773 or you can book an online appointment to speak to an adviser. Our Live text function on this website can get you a quick answer too.