BA (Hons) Public Sector Leadership (Crime, Strategy and International Relations)
Level
Level 6

Duration
3 years

Start Date
September 2024

Venue
Easton College

Course Code
F0090
Summary
The BA (Hons) Public Sector Leadership degree program provides the theoretical and practical skills required for graduates to become leaders within a range of public sector roles including policing, armed services, and local government. As part of this, the course aims to give a strong theoretical base in a broad range of subject areas which allows them a degree of specialisation as the programme progresses with a view to focusing on their career aims.
Students will initially be enrolled onto the core pathway of BA (Hons) Public Sector Leadership (Crime, Strategy and International Relations) in year one. In year two, they will be able to select an optional pathway in either Management and Strategy, or Crime and Policing, to allow students to specialise in area of particular interest within the public sector. Please note that the optional pathways will only be offered in year two in cases where minimum group sizes of six are maintained.
Depending on the pathway taken in the second year of study, students will achieve one of the following awards: -
BA (Hons) Public Sector Leadership (Crime, Strategy and International Relations)
BA (Hons) Public Sector Leadership (Management and Strategy)
BA (Hons) Public Sector Leadership (Crime and Policing)
The programme will be delivered primarily at Easton campus. Some pathway specific modules may be delivered at Norfolk House.
UCAS Code NL00
If you have any specific questions about this course, please contact Matthew Gallagher - Course Leader BA (Hons) Public Sector Leadership, email: matthew.gallagher@ccn.ac.uk
Entry Requirements
64 UCAS Points
Mature individuals (over 21), without the required entry requirements, will be considered based on experience.
AP(C/E)L & RPEL may be considered for non-standard entry.
For international applications IELTS Academic at level 6 (minimum 5.5 in all components) is required.
Learning Outcomes
On completion of the BA (Hons) Public Sector Leadership degree (and associated pathways): - ?
Students will be able to develop understanding and application of a range of theoretical approaches within the wider public sector.
Students will be able to develop transferable, problem solving, and creative skills that are relevant both to work roles, and to their personal development.?
Students will be able to reflect, evaluate, and reinforce their behavioural skills and knowledge through practical application and implementation of leadership
projects.?
Students will have completed an academically rigorous study of the disciplines that forms the basis of an understanding of leadership in the public sector.?
Students will be able to pursue specialist interests and to relate these specialisations to the requirements of public sector organisations.?
Alongside of academic skills, degrees develop the employability of the student via the inclusion of soft or transferable skills. To this end skills are supported within modules, in self-directed work, via tutorials and in student activities. Teaching and learning sessions employ a range of delivery methodologies to cater to individuals and utilise task-based activities to develop student's skills such as:
Communication in a range of mediums
Team Working/Dynamics of Teams
Managing and leading
Taking/Following instruction
Debate and discussion
Collective bargaining and decision making
Motivation
Planning and Targeting
Critical analysis
Assessment
The range of assessment strategies will allow the students to be assessed both practically and theoretically and assist the students in their transition into the working environment appropriate to policing, international relations and the public sector.
Assessments will include essays, literature reviews, project work – including proposals, plans, presentations and reports, oral presentations, reflective journals, practical assessments, examinations and reports.
Progression
On successful completion of the BA (Hons) students may apply t undertake further post graduate study in similar subjects at other institutions (subject to meeting their particular entry requirements).
Career Progression
This degree has been revalidated for entrants from 2022/3 onwards, with input from key employers in the public sector, so has been designed to effectively prepare students to enter a broad range of employment in the Public Sector, including local government, policing and other uniformed services.
Fees
£8,000 per year (for UK students)

For international students (students from outside of the UK), fees are set at £12,000 per year
Latest News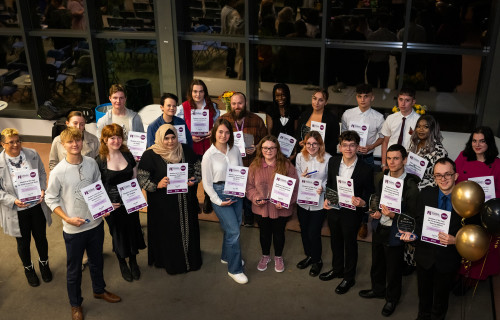 The achievements of twenty seven outstanding students were celebrated at our 2023 Further Education Awards.
Read more
2nd November 2023