Professional Tree Inspection
Level
Other

Start Date
Multiple - see below

Venue
Easton College

Course Code
H0458
Start Dates
Tuesday 28th March 2023, Part Time, 3 days
Monday 4th September 2023, Part Time, 1 year
Monday 4th September 2023, Part Time, 1 year
Summary
This advanced course will enable you to clearly and competently inspect potentially hazardous trees and write appropriate and detailed remedial works (control measures) with appropriate time scales or priorities indicated.
A pre-requisite of attending the course it is fully expected that learners will have a detailed knowledge of tree biology, the tree as an undamaged self-optimised structure, biological and mechanical weaknesses, pathology, legislation, remedial options and their likely implications and the British Standard 3998 Recommendations for Treework. Also any other specific arboricultural knowledge such as may affect detection and measurement of tree defects and recommendation of control measures that reduce the risk posed to an acceptable level.
You should be an experienced and qualified arboriculturist with an in-depth knowledge of plant and arboricultural science, including a thorough knowledge of wood decaying fungi, identification and interpretation of signs and symptoms of ill health and structural failure across a wide range of tree species and circumstances. You should be thoroughly experienced in carrying out tree inspection and survey and be physically fit and able to carry out the tasks required of the course programme.
Tree climbing and use of MEWP will not be required during the course.
The course will provide specific tree inspection training at an advanced level for competent arboriculturists. This will enable you to identify defects from ground level, from a climbed inspection or inspection aided by the use of a Mobile Elevated Working Platform (MEWP).
This professional tree training course will train you in how to specify the necessary remedial works and record the inspection process; this would then form a part of a defensible system.
Entry Requirements
You must have completed the Basic Tree Inspection course and have in-depth arboricultural knowledge.
Assessment
At the end of the course you will undertake a competence based assessment directly related to tree inspection. The course is not aimed at covering report writing; however, presentation of findings will be examined and advice given.
Fees
Tuesday 28th March 2023, Part Time, 3 days

£500.00
Monday 4th September 2023, Part Time, 1 year

£500.00
Monday 4th September 2023, Part Time, 1 year

£500.00
Latest News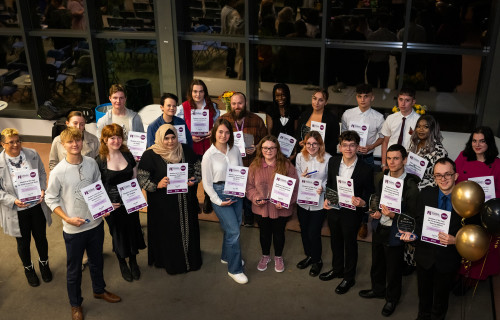 The achievements of twenty seven outstanding students were celebrated at our 2023 Further Education Awards.
Read more
2nd November 2023