Join our BRIT Challenge Tennisathon
16th March 2023 – Tags: Easton College Tennis Centre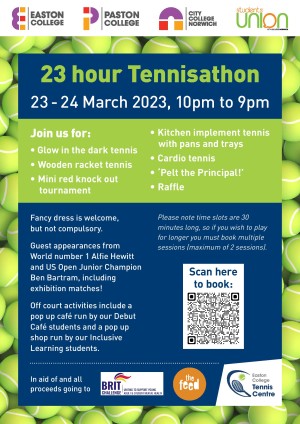 Wheelchair tennis players Alfie Hewett and Ben Bartram will bring star quality to a 'tennisathon' at Easton College Tennis Centre next week, when they join college students, staff, and members of the public in 23 hours of continuous tennis for good causes.
The tennisathon, which gets underway at 10pm on Thursday 23rd March, promises something for everyone - from regular players to those who would simply like a fun and active way to help raise money for two great causes.
Get involved - it's free to take part
Charities we are supporting
The event is part of City College Norwich's participation in the BRIT Challenge 2023, an inclusive feelgood fundraiser which aims to improve mental health and fitness and raise money for young adult mental health.
All proceeds from the event will be split between the BRIT Challenge and local charity The Feed Foundation, which works to tackle poverty and homelessness in Norwich.
Fancy dress fun
The tennisathon is open to anyone who wishes to take part, with slots available for regular play and fun themed sessions, as either full court or mini-tennis games. It is free to take part, with all donations gratefully received.
The emphasis of the event is first and foremost on having fun, with players encouraged (but not required) to wear fancy dress.
The tennisathon will include some unusual variants on the normal format of the game, including glow-in-the-dark tennis for those playing during the night, wooden racquet tennis for anyone nostalgic for the days of Björn Bjorg and Chris Evert, and even kitchen implement tennis using pans and trays!
Fancy dress or glow-in-the-dark tennis?

Elite level exhibition match
There will also be an opportunity to enjoy some elite level tennis as part of the festivities. Alfie Hewett, fresh from his latest doubles success at the Georgia Open, will play up-and-coming star Ben Bartram, winner of the inaugural Junior Boys Singles and Junior Boys Doubles wheelchair titles at the 2022 US Open.
The Hewett vs Bartram exhibition match is scheduled to take place between 2pm and 4pm on Friday 24th, with spectators welcome.
There will be plenty of involvement in the tennisathon from the college's students – both on court and through a pop-up shop and food and drink that students will be providing for the participants to enjoy once they have completed their time on court.
Get involved - click here to sign up
Pelt the principal
City College Norwich's Principal, Jerry White, will also be getting into the spirit of the BRIT Challenge, giving students and colleagues the chance to 'pelt the principal' for a small donation.
Jerry White commented:
The tennisathon represents the grand finale to a series of fundraising events we have held across our campuses for the BRIT Challenge 2023. The Challenge has provided a great opportunity for students, staff, and members of the public to come together for two really important causes.

We are extremely grateful to Alfie, who is a former student of City College Norwich, and Ben, a current Easton College student, for giving up their time to support the event. If you like the idea of playing tennis in fancy dress, or giving glow-in-the-dark tennis a go, or would simply like to see two of Norfolk's elite level stars in action, we'd love you to come and join us for the tennisathon."