Watch Pro Tennis at Easton College Tennis Centre
16th March 2023 – Tags: Easton College Tennis Centre
Easton College Tennis Centre will host the biggest prize money event ever held in Norfolk, when the $50,000 UTR Pro Tennis Tour comes to the college from Sunday, April 2nd to Saturday, April 8th.
With a prize purse of $50,000 on offer, the professional tennis event will provide twenty male and twenty female, British and International ATP and WTA ranked professional players the opportunity to compete and earn their share of the prize pot, over the course of the seven-day event.
Buy tickets for Finals Day (Saturday 8 April)
Early entrants in the Men's event include last month's Pro Tennis Tour Cardiff Champion and British No 22 Millen Hurrion, and former Wimbledon player and Norfolk professional, Richard Bloomfield, along with a host of up-and-coming British professionals.
On the Women's side, World number 530 Katarina Stesnakova of Slovakia heads the field with Norfolk's very own star, top 100 Doubles professional and Billie-Jean King Team GB player Olivia Nicholls, reportedly considering a Wild-card appearance in the event, should schedules align.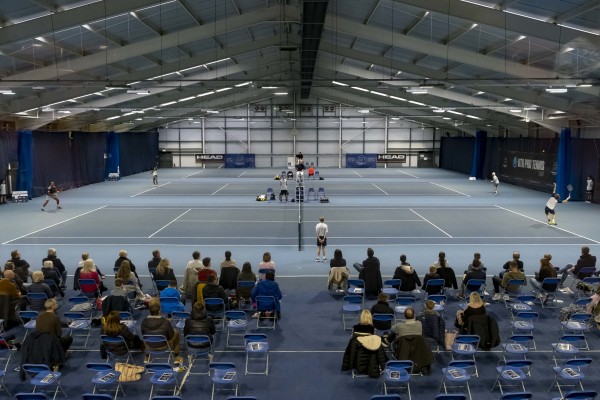 The Progress Tour returns to Norfolk after the success of its pilot event last November, partnering with Universal Tennis to deliver the biggest event in the county's history.
Former Norfolk professional player and Norfolk Men's Team Captain, Barry Fulcher, who heads up the event as Tournament Director said:
Having grown up in Norwich, I'm really excited to bring an event of this calibre back to the city. Since the inception of the Progress Tour some years ago, I've been keen to return to my roots and host an event here in Norfolk, and the past twelve months has seen us raise the bar with each event.

This level of tennis is seriously impressive and the field is already shaping up to be the strongest yet. We look forward to running another great event on the fantastic indoor courts at Easton. It's a great opportunity for the people of Norfolk to enjoy a high level of tennis on their doorstep."
Matthew Breese, Head of Commercial Operations at Easton College, adds:
We were proud to host the Men's PTT event at the end of 2022 which was the first event of its kind to take place in the UK. When Barry approached us about running a bigger $50,000 event at Easter, we couldn't wait to get going with plans to make the event even bigger and better than last time. It's great that our facilities here get to be showcased with events of this stature."
Play begins Sunday 2nd April, and follows a Round-robin format for the first 5 days of the event, before the knockout phase begins on Friday 7th April with the finale taking place on Saturday 8th April, with a bumper day of action.
All matches will be live streamed throughout the week, with daily results and schedules found at www.theprogresstour.com/livestreaming. Play starts at 8am each day, and is open to spectators throughout the week.
Finals day action starts from 9am, with a limited number of tickets available to purchase on a first come, first served basis to watch a day full of high-quality action.
Buy tickets for Finals Day (Saturday 8 April)